Create Your Own Stroke of Brilliance
If you're looking for a simple and affordable way to bring colour to your drab concrete, try a flagstone technique that will create a European courtyard look!.

Paint
For an alkyd based system:
Base coat: M-22 #1163
First colour: M-22 #1176 Second Colour: M-22 #1172
Third Colour: M-22 #1065
For a burgundy look replace 1176 with HC61.
For a latex based system: Latex Floor & Patio (see helpful hints)

Tools
9 inch roller, paint tray, various sizes and shapes of 4 inch thick upholstery foam, utility knife, plastic sheet, stir stick, disposable latex gloves, newspaper, 2 inch foam brush.

8 Easy Steps to Faux Flagstone
Prepare the concrete floor by removing any grease or heavy stains with M83. Scrub with a stiff bristle brush to ensure that there is no debris or dust on the surface. Rinse and let dry thoroughly. Smooth trowelled concrete must be etched with muriatic acid (following manufacturer's cautions), rinsed with clean water and allowed to dry thoroughly before finishing to ensure the paint will adhere. Apply the base coat and allow to dry for a minimum of 24 hours.
Cut or tear various shapes and sizes of upholstery foam to create the flagstone appearance. The bigger pieces should be approximately 10" wide with the smaller pieces only 2" wide.
On a large plastic sheet, pour a puddle of first colour #1176, then drizzle second colour #1172 and third colour #1065 on top.
Use a stir stick to swirl colours together without blending to make sure you can see all three colours clearly. This pool of paint must be bigger than the size of the largest piece of foam.
Dip the foam piece into the paint pool, then lift it up and dab off any excess paint onto some scrap paper or plastic.
Begin your tiles in a corner and work out of the area (or towards the exit). Press the foam onto the floor, creating your first flagstone imprint. Lift the foam off, set it aside and repeat with a different piece of foam, leaving ¾ of an inch between imprints. This creates the grout line. Continue dipping and imprinting re-using the various pieces of foam to create a unique flagstone effect.
To get into corners and other awkward areas, cut a piece of foam to fit that area or use a foam brush dipped in swirl mixture and brush in a stone shape.
Let dry and cure thoroughly before returning the area to use.
Compliments of: Hyde Park Paint & Paper, London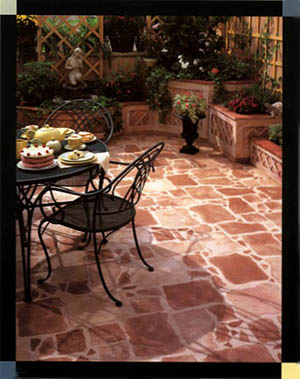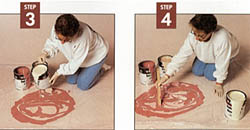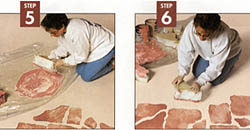 Helpful Hints
Remember to keep some of your base coat to "touch-up" any messy grout lines once you've finished the floor.
If you would like a flagstone finish on your interior flooring, follow the same steps and product recommendations for a concrete surface, as above. However, if your interior surface is plywood, you must first prime the surface with Fresh Start, then follow the steps as described. In this case, be sure to top coat with Stays Clear Acrylic Urethane.
The suggested colours are tinted in an alkyd based system. For a water-thinned latex system in a more earthy series of colours, use Latex Floor & Patio: Base coat; Showroom White 122-04; Stone colours; Sierra Sand LF-11, Antelope LF-54, Adobe Clay LF-53.
Remember, this floor finish won't last outside forever, as its longevity depends on the severity of weather conditions and foot traffic, but it is a good temporary solution to a colour or design problem.